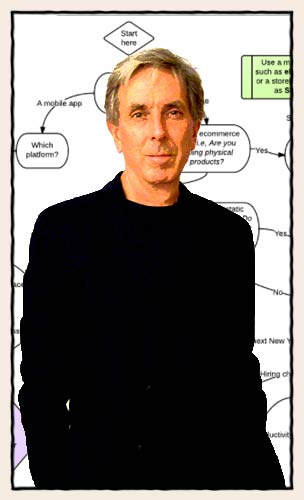 I have a consuming interest in how things work and how they can be improved. I love seeing product designs evolve through a fusion of quality engineering and practical usability.
I'm intrigued by human behaviour and the choices people make. Crowd movements and trends are endlessly fascinating. The ways in which people use and navigate sites, often contrary to the expectations of designers, pull me in to discover the 'why' of those decisions. I want to simplify the complex and lay down paths so that actual behaviours begin to mirror desired behaviours.
Over the past twenty years, either as employee or freelance, I have built web sites and CMS (Content Management Systems), managed content from teams of contributors, managed programming projects, advised businesses on their web presence and staff training, built a large online community, written and edited copy, edited promo videos, run training courses on IT and been commissioned to write two books. Happiness for me is discussing new ideas with enthusiastic people.
I read a lot. I love learning new stuff. I have a First in English and Drama from Bristol Uni in the UK.
'Phil combines an analytical mind with extensive knowledge of the web and business to supply advice we've relied on for many years.'

Gavin Mitchell, CEO, Allied Westminster Insurance Services